It is # 3 challenge time over at
3 Girl Jam
!
Theme:
Coffee Challenge; Create something with a coffee image or coffee sentiment and use a ribbon
I had so much fun making this card! And I used my 10 year old daughter as inspiration. She doesn't drink coffee, however she will bring a coffee cup to school with chocolate milk in it and pretend it is coffee! And she would also wear a mustache to school if I let her! So I giggled most of the time making this thinking about her acting "cool" and enjoying life to the fullest! Not a care in the world! I could not resist the stamp Live it Up! It just seemed to fit!
Here is my project that I will be showcasing as a Design Team Member:





Coffee Mug from Smiley Cards Gypsy
Mustache and Live it up stamp from Studio G Stamps
Paper from My Minds Eye Totally Girl Stack
Notebook Border punch
Googly Eyes
Gems
Swirl Stamp from Stampendous
3 Girl Jam Hot Chocolate Crinkle Ribbon
3 Girl Jam Canvas Border Strip

Sponsor: Fresh Brewed Designs
Prize: 3 Digi stamps of choice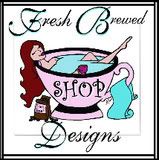 Be sure to stop by
3 Girl Jam
to see all the great crinkle ribbon and new products and enter your project at the 3 Girl Jam
Challenge blog
!